This site is an aggregation of various sow dates for vegetables (this page), herbs and flowers. With these rough estimates of sow data, it's easy to know when to sow and/or plant vegetables. These sowing guidelines are suitable for oceanic climates on the northern hemisphere. Hardiness zone 8 to be exact, which covers most U.S. coastal states and mainland U.K.
Find your hardiness zone here:
wikipedia.org/wiki/Hardiness_zone or on the bottom of this page.
As a rule of thumb:
Add or substract two weeks for every zone variation. (e.g. when you live in hardiness zone 6 wait an extra month before planting outside.)
1. Leaf and stem crops
2. Tuber and root crops
3. Onion crops
4. Cabbages
5. Legumes
6. Bleached crops
7. Fruit crops
Outside seeding / transplanting
G = Days: sowing until germination
H = Days: sowing until harvest
In = Minimum length in row
Vegetable planting calendar
Find your hardiness zone
So as said, the table above gives the planting schedule for gardens in hardiness zone 8. Add or substract two weeks for every zone variation. (e.g. when you live in hardiness zone 6 wait an extra month before planting outside.)
US cities hardiness zones
See the U.S. hardiness zone map for a visual representation.
City
Zone
City
Zone
Albuquerque, New Mexico
7b
Oklahoma City, Oklahoma
7a
Anchorage, Alaska
4b/5a
Omaha, Nebraska
5b
Atlanta, Georgia
7b/8a
Orlando, Florida
9b
Baltimore, Maryland
7b/8a
Owensboro, Kentucky
6b
Boston, Massachusetts
6b/7a
Philadelphia, Pennsylvania
7a/7b
Buffalo, New York
6a
Phoenix, Arizona
9b/10a
Burlington, Vermont
5a
Pierre, South Dakota
4b/5a
Charleston, West Virginia
6b
Pittsburgh, Pennsylvania
6b
Chicago, Illinois
6a
Portland, Maine
5b
Charlotte, North Carolina
7b/8a
Portland, Oregon
8b/9a
Columbus, Ohio
6a
Quad Cities, Iowa/Illinois
5b
Dallas, Texas
8a/8b
Raleigh, North Carolina
7b
Denver, Colorado
5b/6a
Reno, Nevada
6b/7a
Detroit, Michigan
6b
Roanoke, Virginia
7a/7b
Fairbanks, Alaska
2a
Kansas City, Missouri
6a/6b
Hartford, Connecticut
6b
Salt Lake City, Utah
7a/7b
Honolulu, Hawaii
12b
San Antonio, Texas
8b/9a
Houston, Texas
9a
San Diego, California
10a/10b
Las Vegas, Nevada
9a
San Francisco, California
10a/10b
Los Angeles, California
10b
San Jose, California
9b/10a
Memphis, Tennessee
7b/8a
Savannah, Georgia
8b
Miami, Florida
10b/11a
Seattle, Washington
8b
Minneapolis, Minnesota
4b/5a
Tampa, Florida
9b/10a
Nashville, Tennessee
7a
Tucson, Arizona
9a/9b
New Orleans, Louisiana
9b
Tuscaloosa, Alabama
8a
New York, New York
7a/7b
Washington, D.C.
7b/8a
Norfolk, Virginia
8a
Wichita, Kansas
6b
San Juan, Puerto Rico
12b/13a
European hardiness zones
City
Zone
City
Zone
Alicante, Spain
10a
Almeria, Spain
10b
Amsterdam, The Netherlands
8b
Antwerp, Belgium
8
Auxerre, France
8a
Barcelona, Spain
10a
Belfast, Northern Ireland
9
Berlin, Germany
7b
Bratislava, Slovakia
7b
Bucharest, Romania
6b
Cardiff, Wales
9
Catania, Italy
10
Belgrade, Serbia
8a
Copenhagen, Denmark
8a
Dublin, Ireland
9a
Düsseldorf, Germany
8
Edinburgh, Scotland
8b
Gdańsk, Poland
7
Glasgow, Scotland
8b
Hamburg, Germany
8a
Helsinki, Finland
6a
Istanbul, Turkey
8b
Kaliningrad, Russia
6
Kiev, Ukraine
6b
Kraków, Poland
6
Lisbon, Portugal
10b
Las Palmas, Spain
12b
La Coruña, Spain
10b
Ljubljana, Slovenia
7
London, England
9a
Madrid, Spain
9a
Málaga, Spain
10b
Marseille, France
9a
Milan, Italy
8b
Minsk, Belarus
6а
Moscow, Russia
5a
Munich, Germany
7b
Murmansk, Russia
5
Nicosia, Cyprus
10a
Oslo, Norway
6a
Simferopol, Ukraine
7a
Palma, Spain
10a
Paris, France
8b
Poznań, Poland
7a
Prague, Czech Republic
7a
Reykjavík, Iceland
8a
Riga, Latvia
6a
Rome, Italy
9b
Rovaniemi, Finland
4
Saint Petersburg, Russia
5b
Sarajevo, Bosnia and Herzegovina
7b
Santander, Spain
10a
Simrishamn, Sweden
8a
Sochi, Russia
9
Sofia, Bulgaria
7a
Stockholm, Sweden
6b
Strasbourg, France
7
Tallinn, Estonia
6b
Tuapse, Russia
8
Tórshavn, Faroe Islands
7-8
Tromsø, Norway
7
Trondheim, Norway
6
Umeå, Sweden
5
Valencia, Spain
10a
Valletta, Malta
11a
Vienna, Austria
8a
Vilnius, Lithuania
5
Vorkuta, Russia
2
Warsaw, Poland
6b
Wroclaw, Poland
7a
Zürich, Switzerland
8a
Zaragoza, Spain
8b
Canadian hardiness zones
See the Canadian hardiness zones map.
Visual maps hardiness zone maps for any location
Or check out this site where you can precisely pinpoint the hardiness zone of any desired location.
Grow your own vegetables
Advisable crops for starters
Basil
Beans
Carrots
Garlic
Lettuce
Peas
Tomatoes
Fun crops for kids
Radishes
Parsley
Kale
Potatoes
Sunflowers
Pumpkins
Zucchini
Watermelon
Crops that can grow in partial shade
Beets
Garlic
Kale
Lettuce
Parsley
Parsnip
Radish
Peas
Rhubarb
Rucola
Spinach
Vegetable seeds online
Bestsellers this month
Allotment gardening:
º Save money on fresh vegetables in the supermarket.
º Herb plantlets from the grocery often wither quickly, with home-growns you can harvest all year.
º Growing your own food is fun.
º Good way to stay healthy.
º Rediscover where your food comes from.
Tips for starting garden allotments:
º Do not compromise on the quality of soil. Poor-quality soil, or ordinary earth, often lead to disappointing results.
º Don't forget to spade the ground, this is crucial to get a good harvest.
º Reposition your crops every year to prevent soil degradation and increase harvest.
º Don't wait to long before weeding the weeds. After a period, the effort needed will multiple and crops won't grow as good.
º Try to use a piece of your own garden first, before starting renting an allotment at an allotment association.
º When planning your vegetable garden try to think of crop rotation principles.
º Be aware of the shadow on your plot, and bear in mind the shift during the season.
Indoor crop growing
Indoors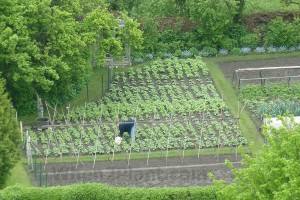 You can also grow your crops indoors and suffer less from unfavorable climate situations. You could start with square foot gardening, this way it's easy to get a start and have a nice and balanced crop variation. Of course you could also just use a flowerpot in front of the window.
Greenhouse
Whenever you want more control and maximize vegetable production it is a good idea to start with a greenhouse. It's fairly easy to find one and on rainy days you can still work on your garden.
All year round
Another way to grow some fresh vegetables is to use a germinator/sprouter and get some germinating seeds like cress, bean sprouts or cereal germs. Also, herbs can generally be cultivated indoors all year long. Check out Cressinfo.com for a site dedicated to garden cress.
Where to buy seeds online